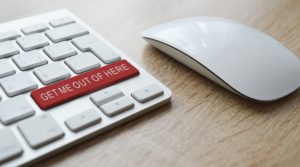 We've uncovered some IRS scams & myths this tax season, it's amazing what others will come up with in attempt to steal money. Today, we are covering Video Relay Scam (VRS) that target deaf and hard of hearing.
Video Relay Services are oftentimes used as a video telecommunication service that allows individuals to communicate over video telephones with hearing people in real time, via a sign language interpreter. The problem is VRS interpreters do not scan calls for validity, so it is up to you to always confirm that the person calling is who they say they are.
If you or someone you know is deaf or hard of hearing receives a VRS call claiming to be the IRS, there are a few things you need to know:
The IRS Will Never:
~Demand immediate payments or specific ways on how to pay (wire transfer, prepaid card, etc). The IRS will not call about taxes owed without first mailing an official letter.
~Threaten to call local police if you do not pay immediately.
~Demand payment without the opportunity to ask questions or appeal amount charged.
~Ask for credit or debit card numbers over the phone.
   2. Receive a Suspicious Call or Know Someone Who Did?
~If you or someone you know is deaf or hard of hearing, you may call the IRS at (800) 829-1040 through VRS. They will be able to answer any questions including payment issues.
~If you received a call but know you don't owe money and have not received an official IRS letter, report the incident right away. You can call the Treasury Inspector at (800) 366-4484.
~You may also file a complaint using the FTC Complaint Assistant. If it involves impersonating the IRS, include the phrase "IRS Telephone Scam" in the notes.
Our team at Business Resource Partners is happy to help with your tax preparation! Mythili, our Enrolled Agent, will be able to directly represent you to the IRS if any issues arise. For a full list of our awesome staff, visit our About Us section.
Call us at (321) 236-2771 to schedule an appointment, or visit us at 310 Almond Street Clermont FL, 34711.